Bette Lee Crosby approached me via Good Reads one day by sending me a message. She noticed what kind of books I like to read and asked me if I would like to read one of hers. I choose a book..........and there began my relationship with a super author and absolutely fantastic books. I love them.
So on this page I will add my reviews on the books I read of hers as I go along.
I was given this book as a complimentary edition from the author. Thank you.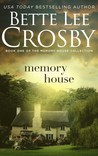 Memory House
by Book 1 The Memory House Collection
Bette Lee Crosby
My rating:
5 of 5 stars
I just adore Bette Lee Crosby and her books, she writes with such flair it tangles you in with the characters she writes about so much so, that you become a part of their lives.
You live with them for a while.
Spare Change,Twelfth Child, Previously Loved Treasures all relate to this story. Its Memory House. This is not just full of Ophelia's Memories of the past and her life she lived in the past books written by Bette Lee Crosby, its also our trip down memory lane with her.
Special memories that we can share with Ophelia now that she is older, very much older and can reflect.
Annie has a lot of things to put up with in her life, her fella isn't much cop! He's a right jerk. When she decides to take a trip and stay in a bed & breakfast, this is where Ophelia is, its her B&B.
Ophelia has a lovely gift, a great talent and helps Annie in her decisions for the future. A bond is made.
I thought this a wonderful advancement to all the books so far that Bette Lee Crosby has written, great idea to move them on and combine Memory House, like a trip down memory lane, but also showing how Ophelia has grown, now a dear old lady with such a kind, dear heartwarming personality.
Thank you Bette Lee Crosby for allowing me to pre read this, you know, I always love your style of writing.
The Loft by Bette Lee Crosby
My rating: 5 of 5 stars
For anyone that knows me and my love of books and authors, they will be well aware that Bette Lee Crosby is one of my favorite authors who I can't wait to start writing her next book. Her books are so life like and so real. Her characters are so well rounded you never forget them.
This is book 2 in the series. I can honestly tell you that I didn't have to go over book 1 to remind myself of what I had read months ago as her books are so memorable.
The Memory House Collection
Its an apt name, its a house that people always have to, need to, or must return to for one reason or another.
Ophelia is the old lady now. She is the one that helped Annie in many different ways.
I have also learnt things from these books, or should I say, from Ophelia herself.
We all have objects that we hold affection for. Her explanation of how we look at these objects of affection was very thought provoking to me. I didn't think of things this way.
Am I going to explain that to you? Nope. When you come to read this book, remember my words, and you will pick up my understanding for sure.
She is a very wise woman Ophelia. They say wisdom comes in years, and this is true, but for me, Ophelia always had wisdom and a good way at looking and helping others, especially Annie.
The book starts off with Annie's wedding. But life doesn't always go to plan does it, we see this as we turn the pages.
Bette Lee Crosby has a gifted way with words and brings out thoughtful things. Each character that is from book 1 has developed even more, they have grown, but they still remain true to themselves.
Tragedy is a part of most people's lives in one sense or another, and this family is not without theirs.
This author brings warmth to her pages, this authors brings hope, this author brings sense to life.
I have currently read book 3 in this series as a Beta read, and let me tell you, it just gets better and better
Passing through Perfect: The Wyattsville Series, Book 3
by
Bette Lee Crosby
My rating:
5 of 5 stars
This is one of my favorite authors. I so remember the time when she approached me on GOODREADS and thought I might enjoy her books. She offered me Cracks in the sidewalk to read and review, since then I have been hooked on each book she writes.
Passing through Perfect.
I wondered why Bette Lee Crosby would come up with this title, I found out half way through the book. I sighed, yes I literally sighed when I saw where it came from. I also feel how true that can be in life, Passing through perfect. Think on it, not all our lives are perfect, but once [if we are lucky] maybe more than once, we pass through a time in our life that is just 'perfect'.
We are thrown back to the 1950's in Alabama. Whites and blacks are segregated. Own schools, one half of a part in a store for blacks [or as they called them all then 'coloreds'] no matter where they came from, all were classified as the same. Coloreds. Some shop windows had signs up where it read 'No coloreds' meaning no one other than white folk could enter.
I can honestly say, I hate reading about those times in history as I am not a racist.
The author brings this book to life right from the very first page. This is book 3, and it follows on brilliantly from book 2.
Benjamin Church returns home after millions of soldiers have been away fighting.
We learn that Benjamin had hopes for learning how to become a pilot and fly his own plane, however, that didn't turn out that way, he did fall into becoming a mechanic though.
Upon Benjamin's return to Alabama and his home which is a farm off of a dirt track called Grinder's Corner he meets up with his father Otis. He can see his Father is ailing and heartbroken from the time he lost his wife and he feels it too, he misses his Mother. But things need to be done on the farm to get it bringing in money again, so Benjamin gets stuck in.
Soon there is a harvest festival which Benjamin attends. His father and a friend thought he might link up with a certain lady there, but although Benjamin danced with her and was very gentlemanly someone else caught his eye, it was Delia. Not all went smooth for them as you will find out when you read this.
I loved the Southern brawl within the chapters. It brings it home so well.
I really admire authors who write according to accents, according to realism and Bette Lee Crosby surely does this. Why try to use the Queens English on a person who comes from Ireland, Newcastle or indeed Alabama, keeping it real is part of why I adore this authors work.
Plus, I really love that accent too, I had a friend who spoke just like it, reading it was surely a treat to me.
Benjamin, how I loved Benjamin. A polite, feeling, loyal, kind, trustworthy guy with a deep roots of justice.
How he Fathered and was raising his son was a joy to read every step of the way.
I could get so carried away writing more and more of this story because there is so much in it.
There were several things I took away with me:
Black or white, there is good and bad within everyone.
Benjamin saw beyond certain ways of why people acted or reacted in ways not acceptable, and he knew when to be quiet.
His sense of quietness and humility came out so many times within this story.
The acceptance of "I am black, I cannot sit with white people at their table...." when invited.
His staying at a bed and breakfast and finding one breakfast room and no split between tables. "Is this the only place to sit and eat breakfast"
This really humbled me, to think back as to how black [colored] folk were treated and the acceptance.
It was brilliantly handled by this author.
Great story, well handled and kept me rooted to my spot until I finished it.
I would like to thank Bette Lee Crosby for contacting me when she has her new books out for me to read. I so feel special in being able to read them.
+This is an unbiased review. Just because I get a book gifted to me I still write honest reviews on how the book made me feel or had what impression on me+
Blueberry Hill, a Sister's Story by Bette Lee Crosby
My rating: 5 of 5 stars

I had the wonderful privilege of reading this almost as soon as it left Bette Lee Crosby's PC! the ink hadn't dried on it, so I was super excited!!! I just love this authors books with a passion.

When she told me it was based loosely on her childhood and her sister, I was so eager to read it.

Travelling back in time isn't always easy, and although this story is based on childhood, its also fiction.

The sister has her problems, big problems, and all becomes clearer as time goes by that [Bette the eldest of the two sisters], that their mother holds Bette responsible for everything her sister does. Which of course, is impossible, however, the effects it has on Bette can be seen enormously in how she takes on too much, far too much responsibility on her young shoulders when in fact, its they're Mother that should be sorting things!

Having anyone with an addiction in the family is tough. I've personally not experienced it, but reading between the lines of Bette Lee Crosby's new book, its a nightmare, the worse nightmare anyone can imagine, and the emotional rollercoaster.

Although Bette Lee Crosby has put this book out there as fiction, I can see a lot of truths that she must have experienced and can't imagine the depths of emotions she must have felt writing this book.

I applaud her, because she has told it brilliantly, its factual, its emotions, yes you will need some tissues, but its also honest and has a lot of integrity for her family in it.

I felt honored to be chosen to read it when it was only a small manuscript, its now a book that everyone can read and enjoy, and a little peek into this authors life. She's written yet again.....a remarkable story that will stay with me for a very long time.
Spare Change
by
Bette Lee Crosby
My rating:
5 of 5 stars
I love Bette Lee Cosby and her books. I first learnt of her when she messaged me on Good reads once and asked me if I would like to choose a book of hers to read and honestly review because it seemed I like books that are in the same genre as hers.
So I looked. The first book I read of hers kept me sat in my chair for hours wishing to do nothing else except read. This book 1 of this series was no exception.
This little boy saw too much for his age. He was a unique character who had a brilliant voice in this book, I grew to love the little chap and adopted him as my own.
The different views on different chapters all knitted together superbly throughout the book. As his grandpa's name was revealed I was `ah this is where it comes in `.
Remarkable author. Always a pleasure to read and review her books.
I am now going to read Jubilee the second book to this series.
View all my reviews
Cracks in the Sidewalk
by
Bette Lee Crosby
My rating:
5 of 5 stars
I was privileged to be gifted this book Cracks In the Side
walk by the author. I haven't read any of Bette Lee Crosby's books before, why? is what I need to ask myself! This author has been firmly planted upon my favourite authors list.
What can I say about Cracks In the Side
walk. Well, it was my type of reading material. I could get into this story within the first chapter, and for me, this is a good sign that an author can draw me in, its means to me that I know I am going to stay glued with this book.
I didn't realize the storyline was based upon a real true story. This brought this poignant story home to me even more. I really felt for all of the people in it, all except Jeffrey. How can you stay married to a rogue, unfeeling, selfish SOAB, I couldn't have.
Of course I felt for the Mother of the children so badly, I walk in her footsteps, felt every inch of her pain.
As for the Grandparents, I've seen my Mother go through life not having access to one of her grandchildren and the pain, heartbreak and anguish this has caused. So not only did they loose one precious gift, they were on the verge of loosing them too.
At the end of this book I had to keep drying my eyes, and in the mist of my tears I finished the last page.
Bette Lee Crosby, you got me! I was in floods of tears at the end and found it hard to choose the next book. Whatever am I going to read next that is going to match this.
View all my reviews
Jubilee's Journey
by
Bette Lee Crosby
My rating:
5 of 5 stars
I think I was so blessed when Bette Lee Crosby messaged me on Good reads and asked me if I'd like to read and give an honest review of one of her books.
Since then I've read a few.
This is book 2 in Wyattsville series. When you read the blurb you can see what the gist of the story is about. Its a brilliant read. What it doesn't show is how this author can get all the loose ends from book 1 and tie them all in, in book 2. All the people in there all connect as you turn the pages.
Another superb book from a fabulous author!
View all my reviews
What Matters Most
by
Bette Lee Crosby
My rating:
5 of 5 stars
Bette Lee Crosby has done it again for me. She had drawn me into another book, another story, another day vanished while I had my nose stuck in my book, in some ways resting my bad back at the moment is sure a pleasure!!!
We can all get stuck in our marriage in later life and not realize the other person has more things going on in their own personal life and feelings than you are aware of, even though you are married to them.
This wife is settled. She has brought up her children, made friends in her neighbourhood and very contented with the home that she has built up over the years of her marriage. On the other hand, her ageing husband is not so content. A job that he is sick and tired of, a rat race he's in, being left a nice place abroad by a relative is the answer to his dreams, who wants to age where he lives? who doesn't want to spread their wings and live a little. He does. She doesn't.
I am sure this is so true to life. I am middle aged, and changes happen within a marriage/relationship and its hard to change with it.
I found the struggle they both had very real and understood it all the way through. I loved the ending.
Well done to Bette Lee Crosby for yet another brilliant read!
I received this book in exchange for a review, that was not a problem to me, I just love it. Thank you Bette.
View all my reviews
The Twelfth Child
by
Bette Lee Crosby
My rating:
4 of 5 stars
Bette Lee Crosby has done it again for me. She has transported me into the time of the Great Depression era, where we meet Abigail Anne Lannigan struggling to survive. Her twin brother sees her off one day, she leaves, she has to. And I can't tell you why, you need to read this as its very poignant and heart rendingly powerful.
This sets Abigail on a journey all of her own, very resilient young lady.
There is Destiny Fairchild who in her senior years befriends Abigail, an unlikely friendship has now formed.
Abigail can see a lot of herself in Destiny, I think that is why she takes her under her wing. Destiny who now lives in the street she gives her bits of furniture. As the friendship gets deeper and Abigail is growing older she relies on Destiny for helping her to sign cheques and pay household bills. So she has her name added to the bank account. She also expects Destiny to buy things for herself, there ensues the problem once Abigail departs this life.
Along comes the 'family relative' who has always been the bane of Abigail's life, always asking for handouts but not caring for her at all! He now has Destiny up for Embezzlement.
I found the court case really exceptionally good, I felt like I was sitting in the jury seat! Well done to the author for pulling me in like that.
The book switches from time zones from young to older, but its very easy to keep up as Bette Lee Crosby has a unique way of playing her characters out, holding you in the palm of her hand.
I can honestly say that the book plays out like a film in my head scene after scene.
I loved how the author added the overwhelmingly touching edition of Abigail, although she is now dead, buried but never forgotten, looking down over the proceedings. She cannot do anything about what she see's or change or interfere with any difficulties she could have altered when alive, but, just her thoughts when things are going on in this book after her death was a great added bonus.
I always look forward to reading the 'next' book that this author writes, and this one kept my attention throughout.
Remember when reading this, you need to transport your mind by in the time zone, when life was like this, people where more friendly and life back then had that 'easy' feel.
I was given this book as a complimentary edition from the author. Thank you.
Memory House
by
Bette Lee Crosby
View all my reviews
View all my reviews
PREVIOUSLY LOVED TREASURES, The Serendipity Series Book Two
by
Bette Lee Crosby
My rating:
5 of 5 stars
I was overjoyed when Bette Lee Crosby contacted me and asked if I wanted to Beta read this for her! I couldn't sit still, it came in at the right time, I had just that moment finished reading a book and about to add my review on that one.
I started reading it that very evening. I didn't get to sleep until the early hours of the morning as Ida's life pulled me right in with her. When she started to take in lodgers to make ends meet I was hooked even then.
The Previously Loved Treasures reminded me a little of the Old Curiosity Shop years ago I read [Wordsworth Classic] in some parts.
Although this book is really real, it can be quite magical once you arrive at the Previously Loved Treasures outlet. I loved it!
Bette Lee Crosby has such a powerful way with words, but gentle at the same time.
If you haven't picked up a book by this author, you should. I know many who has said to me "who?" and then I have recommended one of this authors books and they have loved it. No one is disappointed with this authors books. A truly remarkable author. Unique story teller who can write about anything, any era, any person and breath life, reality and realism into it.
My reviews are my own. They never reflect on whether I am given a book as a complimentary, or if I purchase one, I treat all of my reads the same, seriously, and with honesty.
View all my reviews